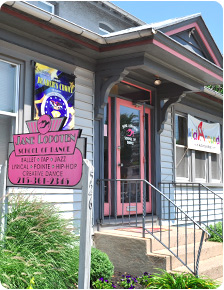 Two spacious dance studios
Hardwood sprung flooring, mirrors, special lighting, air conditioning and high ceilings.

A Dance Cam
Parents can observe the entire class from the waiting area. The dance cam is also used for taping classes.

Miss Sharon Study & Conference Center
In memory of Jane's mother, this room was created for our students and parents to work quietly in an inspiring room. The room is filled with photos of our "MIss Sharon" and beautiful pictures of our teachers and students.

A quiet study area
Our students can do their homework in a quiet environment provided along with a dance library, boutique, and private office area for parent/student/teacher conferences or meetings.

Wi-Fi Internet
Free wire-less internet.

Separate restrooms
Private facilities for both girls and boys.

Comfortable waiting area
Provided with TV, VCR, DVD, along with many dressing rooms/baby changing area, a convenient snack area with vending machines and also a play-room.


Note: Pictures or videos of dance classes, routines, or any choreography cannot be displayed on social media without the express written consent of Jane Lopoten orJane Lopoten's staff.
Register Now For Classes
Our Dance Classes

Inside The Dance Studio

Dancing For A Cause

Senior Party

Susan G. Komen / Philadelphia